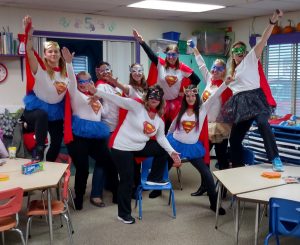 Our staff work as a team to maintain a challenging, fun, and safe learning environment.  As an independent school, we are able to cater to the needs of each individual student. We are not restricted by a "franchise policy" or cookie-cutter curriculum. Each class' syllabus is developed by its head teacher and the school's director.  We are extremely proud of the environment we have created.
All staff have been recruited and are highly respected in the industry.
We have an exceptionally low turnover; the average tenure at Camelot is 8 years.
We always have a low teacher-student ratio.
Our staff are enthusiastic and have a sense of fun. Teaching is their joy and not just a job.
All teachers are CPR and first aid certified.
Susan Galli has been running the family business since 1999. She is the school's director and Head Pre-K Teacher. She has a BA in Theater with a Minor in  Phys.Ed and a Master's degree in Early Childhood Education.  She is a member of the National Association of Early Childhood Educators. Prior to teaching at Camelot, she owned a gymnastics school in New Zealand where she coached gymnastics at all levels from preschool to Senior Elite. She has two children – Jackie, a Camelot Alumni now a Senior at HOVAL, and Katie, living and working back in New Zealand.
Erin Wurtz is the Music Teacher and is an ABC/123 Aide. Erin previously worked at Sesame Place where she worked in hospitality, entertainment and education. She is a student at Bucks County Community college and is a certified Music Together Teacher.
Cara Dill started at Camelot in 2014. Cara has been working in education for over 6 years.  She holds a CDA state certification in early childhood education and is continuing her education at William Paterson College. She is a teacher for the ABC class (3-4 year-old class).
Frieha Asim  joined Camelot in 2011. She has a Master's degree in Science and her CDA state certification for Early Childhood Education. She has twins that are Camelot Alumni and are attending Timberlane Junior High in Hopewell. Frieha is a Head Teacher for the ABC class.
Nicholas Kianka